My wrinkles and loose skin are not an indication that I'm old. They are simply proof that I have been flexible my whole life.
Lost Weight? Loose Skin?
So, you've finally done it. You have literally worked your butt off … and your tummy … and those big thighs have gone forever. You should be feeling on top of the world.
But, and this is a big BUT, you find yourself left with loose skin.
This problem can be very upsetting for those who have put so much effort into weight loss but are left with a body they are still not happy with.
This article shows you how to get rid of loose skin with some easy lifestyle changes.
Why does Loose Skin Happen after Weight loss?

If you've lost a lot of weight through diets and/or exercise, the chances are you may face the problem of loose skin. Skin is a very elastic organ and as you grow it stretches to cover your body.
When you lose weight, your skin has the capacity to shrink as well, especially the outer layer of the skin, the epidermis.
However, if you lose weight very fast, the elastic components of your skin might not have enough time to adapt to the rapid loss of fat that keeps your skin stretched out over your body.
I don't call my skin 'loose' rather I like to think of it as a 'relaxed fit'.
1) Make a Weight Loss plan before you start losing weight

Although our first tip may be too late for some of you reading this, planning a healthy weight loss program in advance can help avoid the loose skin problem.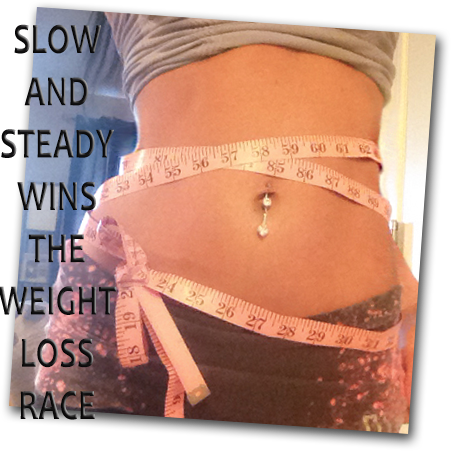 This means try to avoid rapid weight loss and fad diets. Indeed the American Heart Association recommends that no more than 1 to 2 pounds, or 0.45 to 0.9 kg of weight should be lost per week. Loose skin is not the only problem resulting from rapid weight loss. There are other more serious health issues that rapid weight loss can increase the risk of. These include, heart disease, stroke, diabetes and glucose intolerance.
Rather than a 'crash diet' opt for a healthy eating plan, such as the Mediterranean or the Dash diet. Remember, slow and steady wins the race and will greatly reduce your risk of being left with loose skin, re-gaining the weight and a host of other health benefits.
Crash diet, you say? I do that when I add vodka to breakfast and fall down the stairs by lunchtime.
Oh Moose! Will you get serious? Healthy eating and avoiding fad diets are important.
2) Ask 'Is it Left Over Body Fat or Loose Skin'?

For some people, after weight loss, there is no doubt that what is left over is loose skin. However, sometimes the left over 'loose skin' is still a bit of residual body fat, especially in those difficult areas, such as the belly, hips and butt.
Thus, it is not just the weight loss that is important but also the body composition. You can lose a lot of weight but still have an abnormally high body fat percentage. Whilst there is still body fat hanging around, you can easily mistake this for loose skin. On average, a woman should have a body fat percentage of around 20% and for men 10%.
So, how do you know if you have too much body fat? Well, to keep track of your weight loss journey you can try our very own weight loss percentage calculator. However, one of the best and most accurate ways to measure body fat is to measure how much fat tissue you have with skinfold calipers, or simply by pinching with your fingers. Remember, if you can 'pinch more than an inch', then fat tissue is probably still present and the weight loss and exercise regime needs to continue. If you are just pinching very thin (1 or 2 mms)layers of tissue then it is probably skin.
In addition, if further weight loss and exercise leads to a tightening of the problem 'loose skin' areas then it is probably fat. Conversely, if further weight loss increases the loose skin problem, then it is probably 'just skin'.
Another good test is to grab a piece of your skin above the knuckle of your hand. That is what loose skin feels like
3) Add some weight training or Resistance Training for Muscle

An exercise regime is an important part of many weight loss programs. However, if you lose weight too quickly you will lose fat, but you will also lose lean muscle tissue which may add to the loose skin problem.
Cardio workouts are great for the heart and general health. However, adding some light weight training or resistance training will help build and maintain lean muscle. The muscle tissue fills the space between the skin and the underlying tissues and also lends to that 'lean healthy' look.
If you are just starting on your weight loss journey, then be sure to add some resistance training to your regime. If you have already lost weight it is never too late to start changing some of those underlying fat cells into lean, mean muscle. By the way, for the ladies, when we say weight training, the end goal is not bulging biceps and a six pack, it is simply a slim, toned, healthy body. You don't need to go overboard.
What do you think the best machine is at the gym to impress the ladies, Megan?
Well, that's easy. The ATM machine, of course.
4) Drink Water … and lots of it

Many people forget that the skin is the largest organ in the body and needs to be cared for. Drinking plenty of water per day may help any 'sagging skin' problems along with a lot of other health issues. Dehydration, or not drinking enough water can lead to a loss of the skin's elasticity. The National Academy of Medicine (NAM) advises drinking 3.7 litres of water per day for men and 2.7 litres for women.
Admittedly there are very few studies that actually examine the relationship between skin health, hydration and 'glow' and water consumption. One study did, however find that drinking 5oo mls of water did increase blood flow to the skin 30 minutes later. However, common sense has to win through, and as the skin is made up of around 64% of water drinking more of the stuff really can't harm.
Furthermore, try to avoid:-
energy drinks
carbonated drinks
caffeinated beverages
since they are dehydrating and tend to rob your skin of essential nutrients that make it smooth and elastic. Aside from water, you can also drink herbal teas. Green tea is a fantastic option and it has a LOT of additional health benefits.
Why are there not many studies on water consumption and skin health?
Do large pharmaceutical companies sell water? Ooops, please excuse my cynicism.
5) Ensure a diet rich in Protein

Elastin and collagen are two vital proteins that maintain the elasticity and structure of the skin. Although these proteins naturally decrease as we age, a high protein diet can help maintain elasticity and firm skin.
The recommended Dietary Allowance of protein is about 0.8 grams per kilogram of body weight or around 56 grams per day for men and 46 grams for women.
So, in order to keep your skin healthy eat more:-
Fish
Cheese
Lean Meats
Eggs
Milk
Lentils
Beans
Nuts
Maintaining a diet high in healthy proteins is not easy, especially on the move. You can always add a high protein shake after exercise or if you are on the go.
I like to add vodka to my protein shakes because fitness should be fun.
6) Exfoliate and Moisturize your skin

Moisturizing your skin is one of the top anti aging routines that you can do and is also very important in improving circulation and skin elasticity. When choosing a moisturizer always go organic. Look for creams with elastin and collagen or you can go totally natural and use coconut oil or egg whites.
Always remove the dead cells in your skin through daily exfoliation using a soft-bristled brush prior to showering. The increase in circulation will help tighten loose skin. Exfoliation also brings essential nutrients to your skin, thereby improving the quality of elastin and collagen and helping your skin bounce back after losing weight. You should also take multivitamins to ensure that you're getting enough nutrition, even if you are cutting down on calories.
What about urotherapy?
Oh, that's where you cleanse your face with your own urine.
What? Pee? Oh that is gross!
Yes, but apparently it can make your skin smoother because it contains urea and uric acid which boosts collagen production.
7) Treat yourself to a massage

Massage is a great way to improve circulation to your skin and various parts of your body.
Effleurage is a massaging technique that improves circulation and maintains skin health (also one of the best anti aging skin care methods). You may also ask your masseuse to employ techniques that reduce the appearance of cellulite.
If you don't want to get a professional massage, you can massage the areas of sagging skin with lotion or oil.
8) Eat LOTS of Fruit and Vegetables

Most of us will suffer from loose skin as we age. However, essential for skin health, as mentioned above, are the proteins collagen and elastin. Essential for the production of collagen and elastin are Vitamins A, C and E, zinc and selenium. What contains these essential nutrients in abundance? Well, fruit and vegetables of course.
So make sure that you pack your diet with a whole host of fresh, organic fruit and vegetables. Aim for five good portions of fruit and veg per day. Excellent for improving the firmness and glow of skin are :-
Citrus fruits
Kiwis
Bell peppers
Cruciferous vegetabls such as broccoli, sprouts, cabbage and watercress
Orange Vegetables such as pumpkin and carrots
I buy LOTS of fruits and vegetables every week.
I know, but you always throw them away a week later. You do have to eat them.
9) Avoid at all cost

As we have seen, there are many positive steps that you can take to avoid sagging loose skin. There are also some behaviours and foods that really do not help with skin problem. In fact, all the bad habits on the list below encourage aging, wrinkles and skin damage. Most of them are common sense, but let's go ahead and make a quick list anyway:-
Avoid excessive alcohol
Stop smoking
Avoid junk food, that is all processed foods, sugar and refined carbs
Do not crash diet
Always wear a sunscreen in full sun
Never squeeze spots or zits
Do not skimp on sleep
Hmmm. Not really liking the list of things to avoid. It looks like all the fun stuff is on there!
10) Last resort: Surgery

For some people after rapid or excessive weight loss, and despite the very best efforts, the loose skin just will not go. One factor in this is the amount of time a person is obese. Think of a balloon being inflated for a very long time, when it goes down it doesn't just pop back to the original shape. For some, surgery may be the only answer.
Skin removal must be carried out by a verified and experienced cosmetic surgeon. As with all surgery, there are risks. You will be left with a long scar too. Skin removal operations are considered 'cosmetic' and you may have to pay, the operation can be costly.
Please try all the natural self-help steps in this article before resorting to surgery.
Other Articles on halls.md