Big Belly? Read On!
If you want to find out how to lose belly fat you have come to the right place.
What exactly is belly fat? We are not talking about loose skin around the tummy after childbirth or c-section belly fat.
We are not talking love handles or muffin tops, (which are often a result of a bad choice of clothes, such as too tight jeans) we are talking about visceral fat that accumulates around your organs deep in the abdomen.
Having a fat belly in proportion to the rest of your body not only plays havoc with your body image and wardrobe choices – forget those clingy tops, vests and dresses – but it has some serious health implications as well.
I've been told I have a beer belly…but I don't drink a lot of beer.
Yeah I've seen all those pizzas that you eat though.
That's it then. Hector has a pizza paunch.
Types of belly fat
Research studies have shown that your waist circumference can be an indicator of the amount of visceral abdominal fat.
Visceral belly fat is not the subcutaneous fat that you get hold of to see if you 'can pinch more than an inch' it is nestled underneath the abdominal muscles and around the organs.
If you are overweight and have a big belly there is a good chance that you will have both types of abdominal fat – subcutaneous (on the surface) and visceral (deeper inside).
There is a general myth that it is impossible to lose belly fat and get that flat stomach you have always wanted. However, there are some lifestyle changes that are easy to implement and scientifically proven to help you lose belly fat fast.
Excuse me! I don't have belly fat, my stomach is just in 3D.
How to tell if you have too much belly fat
Waist Circumference
Simply get a tape measure and measure around your tummy just above your hip bones and about level with your belly button.
The World Health Organization (WHO) states that the waist measurement should not be above 85 cms for women or 90 cms for men.
The International Diabetes Federation puts the limits a little lower at 80 cms for women and 90 cms for men.
If you are worried about your waist circumference you need to take action to lose belly fat.
Don't forget girls. A nice shirt turns your muffin top into a cupcake.
Some Known Health risks of an increased waist circumference
Cardiovascular Disease: An increased waist circumference regardless of BMI measurements has been linked with an increased risk for heart disease. One medical study suggested that a waist measurement of above 71 cm for women and 84 cm for men may be useful in identifying those at risk of coronary heart disease.
Diabetes: A 2010 research analysis urged that waist circumference was linked with type 2 diabetes risk and should be used as a measurement together with Body Mass Index (BMI). Likewise there is an increased risk of metabolic syndrome related to an increasing waistline.
Alzheimer's Disease: Although evidence is conflicting some studies have indicated that a larger waist circumference is related to a higher risk of late onset Alzheimer's disease.
Gosh – that's scary. I had no idea!
Yes, a bit of flab around the waist and next thing you're losing your heart and your mind.
… and even some cancers

Colon Cancer: A 2004 study found that a larger waist size in both men and women meant that they were twice as likely to develop colon cancer.
Furthermore, waist circumference was found to be a stronger predictor for colon cancer than BMI measurements.
Prostate Cancer: A recent medical study has shown that although a higher BMI was associated with a lower risk of Prostate Cancer, abdominal obesity is a predictor of risk.
Breast Cancer: A huge study that followed 47,382 nurses over an eight year period concluded that a larger waist measurement increases the risk of breast cancer especially in postmenopausal women who have not taken hormone replacement therapy (HRT).
So … this is looking quite serious Doc, my muffin top is not quite so cute now.
Yes, abdominal fat is serious. In fact, those at normal weight with a big tummy are more at risk from death from all causes than those classified as obese by BMI.
Okay, so let's hear what we have to do to get rid of that spare tyre…
Ten Top Tips on how to Lose belly fat
1) Swap to whole-grain products
One medical study examined a bunch of obese adults on a reduced calorie diet. One group avoided whole-grain foods and the other group took all their carbohydrate servings from whole-grain. The grain munching group lost significantly greater amount of percentage body fat particularly in the abdominal region. What does this mean? Simply by swapping refined carbohydrates for whole-grain you will lose belly fat. So change that white bread, pasta and rice for brown!
2) Eat monounsaturated fats…
Several studies are showing that monounsaturated fats found in nuts, canola oil, olives, olive oil and avocados, for example, have several health benefits.
One health benefit is that these fats help reduce bad cholesterol and improve cardiac health.
However, studies have shown that those on a healthy diet that includes monounsaturated fats, such as the Dash Diet or the Mediterranean Diet, have a reduction in abdominal fat and waist circumference.
Keep the servings light though, as these healthy fats are loaded with calories.
3) Watch the Calories
To lose stubborn belly fat, as well as any other body fat, you have to burn more calories per day than you take in.
On average, to lose weight a woman would need to eat a restricted calorie diet of around 1500 calories per day and 2000 per day for a man.
However, how many calories each individual needs per day depends on many factors such as age, weight, height and activity levels. The National Institutes of Health (nih) have developed their own free on-line calorie calculator after years of research. Use it here and cut those calories.
If only my bank balance was as high as my daily calorie intake.
4) Take up High-Intensity Interval Training

The good news is that a 2011 research study looked at the effect that abdominal exercises had on the proportion of abdominal fat.
This study found that six weeks of abdominal exercises had NO effect on reducing abdominal fat – so forget those curls and sit-ups guys.
Likewise, the effect of aerobic exercise is negligible too. However, high-intensity interval training (HIIT) may be the most effective way to burn belly fat. This sort of intense exercise regime, a medical research study showed, was effective in getting rid of belly fat.
Furthermore, the more overweight the subjects were to begin with the greater the abdominal fat loss. Add a little bit of strength training into the mix and you will we be well on the way to a flat belly.
Good news about scrapping the sit-ups and curls.
Too right. The last time I did sit-ups I ended up rocking myself to sleep.
5) Ditch ALL Processed Food
If you are intent on losing belly fat, one of the easiest ways to do so is to simply cut out processed foods.
Most foods that come in a bag or a box are processed.
These include ready-made dinners, margarine, chips, french fries, fizzy drinks, chocolate bars, cakes, donuts and processed meats such as hot-dogs and bacon.
Why not swap these tasty treats for some fresh fruits and vegetables? Processed foods contain the 'bad fats' known as trans-fats, refined carbohydrates and high sugar and sodium content too.
All these should be avoided like the plague if you really want to shake off that stomach fat. Swap all sugary tasty treats for healthy snacks.
OH No! All my favourites are in the processed foods group.
Well, don't cut everything out all at once – go for 2 or 3 foods a week.
That's not making me feel any better …. but I so want to lose belly fat.
6) Drink Green Tea

The important thing to remember here is, if you carry on eating badly and do not take a healthy diet then simply adding green tea to your routine is NOT going to help flatten your stomach.
However, a 2009 medical study found that drinking green tea had a surprising effect on fat distribution when combined with exercise. A group of participants received a drink containing 625 mg of catechins (the active molecules in green tea) and 39 mg of caffeine for 12 weeks whilst a control group took a placebo. All participants took 3 supervised moderate-intensity exercise sessions per week.
Percentage changes in each group of overall fat mass did not differ but the tea drinking group had a greater loss in total abdominal fat and improved fasting triglyceride levels, (triglycerides are fats that circulate in your blood made up of glycerol and fatty acids).
7) Cut out Beer and Spirits
It's not called a 'beer belly' for nothing. There is no doubt that regularly drinking too much alcohol leads to excess belly fat.
A good plan to lose belly fat from around the middle is to cut out all weekday drinking and stick to weekend partying.
Just starve those fat cells of their energy source.
Interestingly, one research study found that the type of alcohol consumed also plays a role in waistline weight gain.
In a 10 year study it was found that a moderate to high alcohol consumption of beer and spirits was directly linked to an increase in belly fat.
However, wine drinking did not have the same effect – so swap those pints of ale for a nice glass or two of red wine – Mediterranean style.
What? No beer but what about beauty?
There is no connection between beer and beauty, Moose.
Yes, beauty is in the eyes of the beerholder.
8) Increase your Soluble Fiber Intake

Fiber is essential for keeping blood sugar levels steady and has been shown to lower cholesterol, but on top of this eating plenty of soluble fiber can help you lose inches off your waistline.
Fibers, although belonging to the carbohydrate group, are fantastic fat-burning foods. This is partly why very low-carb diets are not always a healthy choice.
It is soluble fibers that have been shown in clinical trials to be beneficial to losing pounds from around the waist line.
Examples of foods that are full of soluble fiber are beans, (such as kidney and black beans), oats, brussel sprouts and oranges. A recent medical study concluded that soluble fiber, together with increased physical activity, was linked with decreased amounts of visceral adipose tissue (deep abdominal fat).
9) Add some virgin coconut oil to your diet
Although many think that coconut oil may just be a gimmick, several scientific studies have shown that it can be effective for weight loss and reducing belly fat.
One medical study looked at 20 Malaysian subjects, all of whom had overly large waist measurements.
This study found that taking 10 mls of virgin coconut oil three times a day significantly reduced waist size, particularly in men. The average waist reduction measurement was 2.86 cms over a 4 week period.
It is the healthy fat called 'lauric acid', that is found in virgin coconut oil, that is thought to be the active ingredient for weight loss. So, lose belly fat naturally by adding some coconut oil to your diet.
10) Sleep like a kitten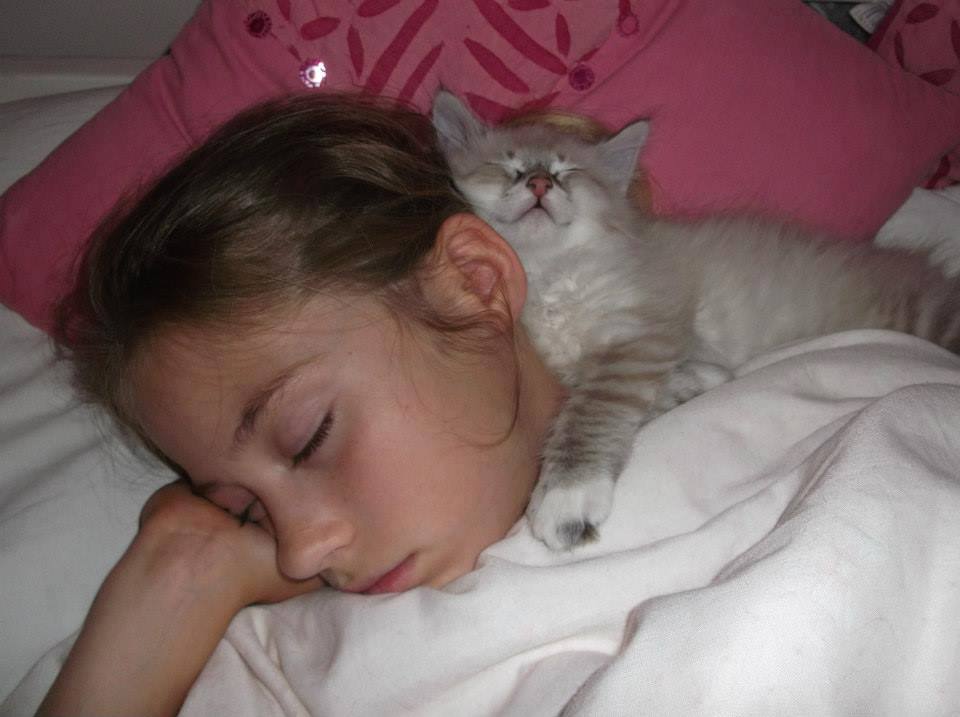 Moose and Doc have looked at the amount of hours you sleep each night in relation to weight loss in general.
However, a more specific study, over a 5 year period, has uncovered a link between abdominal fat and sleep too.
In an IRAS family study a group of 1,107 African Americans and Hispanic Americans were examined. Findings shown that those that slept less than 6 hours per night or 8 hours and over had a marked increase in visceral fat measurements. So … set your bedtime routine and your alarm clock and lose belly fat.
To hell with beauty sleep people. Go for skinny sleep.
Recent Weight Loss Posts
Recent Diet Posts
Don't you hate it when somebody answers their own questions? I do.
References
Clifton PM, Bastiaans K, Keogh JB. (2009) High protein diets decrease total and abdominal fat and improve CVD risk profile in overweight and obese men and women with elevated triacylglycerol. Nutr Metab Cardiovasc Dis. 2009 Oct;19(8):548-54 (Retrieved July 23rd 2016) https://www.ncbi.nlm.nih.gov/pubmed/19179060
Vispute SS, Smith JD, LeCheminant JD, Hurley KS.(2011) The effect of abdominal exercise on abdominal fat. J Strength Cond Res. 2011 Sep;25(9):2559-64. (Retrieved July 22nd 2016) https://www.ncbi.nlm.nih.gov/pubmed/21804427
Return to Homepage