Hello and Welcome. Thanks for visiting.
I know the weight calculators, but what is the Moose?
Before I tell you about the Moose, here are some popular links.
The new Body Mass Index calculator, the alternate BMI calculator for men with no fancy graphics, the Ideal Weight Calculator and Body Surface Area calculators.
I've been helping people with weight issues for years, with a doctors code of ethics that requires things are proven, safe and effective. Three important words. 2 out of 3 isn't good enough. On this website, I've posted pages on the various fads and popular schemes for losing weight, trying to be informative and fun and helpful.
And here are a few more pages important enough for homepage links.
Here's an experiment. Here are our latest posts; Weight Watchers and Coconut oil and Weight Loss Pills and Supplements and The HCG diet and The Medicinal Mediterranean Diet and The Military Diet and The Atkins Diet and How to lose belly fat FAST need a little temporary boost in findability, so I added the links here.
It's Moose time. Click my face for a surprise.
OK Moose.
I've got something to give away free, just to help people get motivated and active for losing weight. Not a diet, not a supplement, not exercise program, or things like that.
Good nutrition, daily exercise and eating a little less are required to lose weight. But as usual, I've worked on something unique and pretty amazing.
What? What's amazing?
First, click the subscribe button on the bottom of the page, and I will send my free whitepaper on the importance of Sleep. The science behind getting enough sleep is solid, and how it helps you lose weight, is important to know.
The Doc programmed me with hypnotherapy, power-of-suggestion, and jokes.
I'm not going to pay for hypnotherapy. I can't afford it.
Relax. The Moose is free, and persuades you to get enough sleep.
And weight loss. We want weight loss motivation.
Yes! The Moose's positive, power-of-suggestion, motivates you in exercise, healthy eating, eating less, etc.
I'm preparing a second whitepaper with the science about good mood, happiness and laughter and how important these are to improving your life, and to losing weight.
This material is known in science, but it's hard become happier in real life. The Moose provides a way. Think about how great it would be, to receive little extra jolts of feeling good, throughout the day. So good, that your brain doesn't crave calories, to get a dopamine reward.
My sense of humor is way better than Doc's. You'll be smiling and sharing it with others.
The Moose, is free software. The Moose is a famous, beloved, joke-telling friend. Humor is nice, of course. You becoming funnier and happier is even nicer. Allowing the Moose to persuade and motivate you, in weight loss and getting enough sleep is really nice.
So, the Moose is software.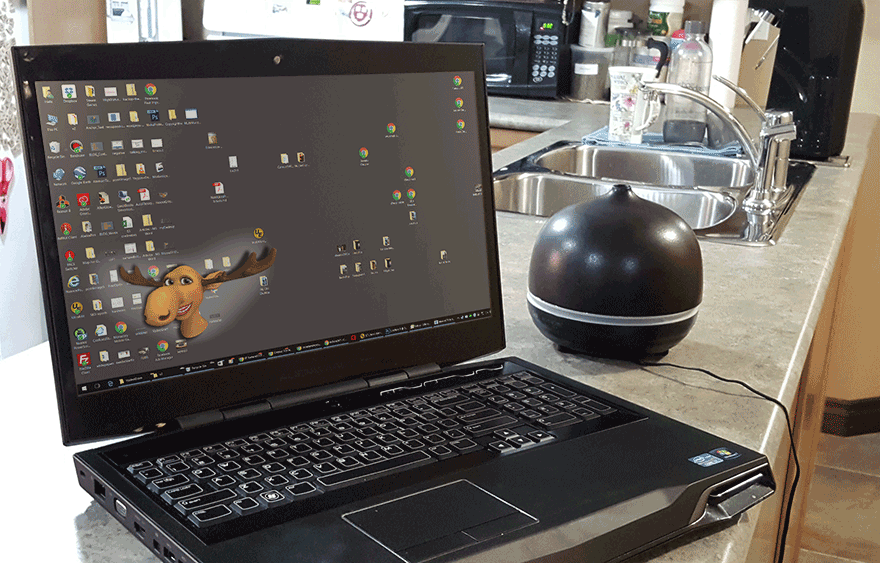 You still need to eat a little less, exercise a little more, choose good foods, and so on. The Moose will remind you about all this too. But the mental change, via sleep, positive persuasion and gaining happiness to negate over-consuming calories, is something the Moose can add, that nothing else can.
Two ways to get the Moose for yourself.
Join the "Waiting for Moose" facebook group.
Subscribe, just below
The software isn't finished yet, but you can Reserve a Spot to be first and most favoured, and be on the mailing list for updates, if you are interested, and I hope you are.
Steven B. Halls, MD, FRCPC
The Subscribe button is because I only have one way to save an email address, to put you on the list to send a thank-you, and later, to let you know when the software is ready.
The Moose is free now, but not forever.
Reserve your Moose while it's still free. For subsequent people later, who miss this free momentum-starting stage, I have a high price in mind.