1. "Wear clothes that fit just right"
If your clothes are too tight, they will make your fat and bulges more noticeable. If, conversely, they are too loose, they will make you look even bigger, instead of having you look your best. When you shop for your clothes, it is important that you try them on first before you decide to buy them, and see that they fit you well. As you may know, every size and brand has a different fit. This is especially the case for jeans. So take the time to try them out before you buy them would be the absolute right thing to do.
"The black shirt that you're wearing to make yourself look skinny makes you look hopeless and lonely."

2. "Choose clothes that are dark in shade"
They give the impression of a slender figure, unlike light-colored clothing. Select vertical designs, never horizontal ones. The latter encourage people to look at you sideways, maintaining your flab. Whatever you decide to wear, make sure that the design does not emphasize your complicated area.
Why do you always wear your belt like that?
…Like what?
All the way up there? Isn't it supposed to be lower? …Like this?
Well because it makes me look skinnier, duh.
Well, I've never noticed a difference…
I have…
I've noticed too. Don't listen to these guys. They don't know anything.
You're right… They don't…
You're right. We don't.
"For all you guys wearing skinny jeans… I think you took the phrase 'getting into her pants' the wrong way."

3. "Improve your posture"
If you stand tall, you will look smaller. Even if you are pudgy, your muscles will be extended, and your stomach will be in and pulled back, leaving absolutely no section bulging out. Slouching will certainly make you look bigger in the center.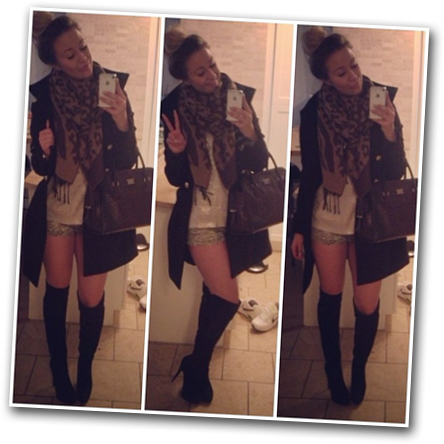 4. "Wear supportive undergarments"
These will aid to shape your body and hide the unwanted bulge. They may feel extremely awkward if they are too tight. So avoid overdoing it. Wear undergarments just one size smaller than your own and you will get the exact result. Push-up bras and girdles serve the same intention.
"Want to look your best?"
A desire of yours may be wanting to choose from a wider variety of outfits. Learn how to make yourself look your best – and yes, also make yourself look thinner as well! – by reading these following tips and experimenting with them. Note that what is effective for others may not work for you. Be open to the advice of experts on this subject and have the courage to putting some of their words into action.
Trying to lose weight takes time but you can learn how to look your best and look thinner today. This page includes 10 basic tips that you can consider trying…

5. "Add some accessories"
Bold accessories are a great thing to wear. These include belts, sashes, etc. These will take the attention away from the body.
"Be nice to your hairstylist. They can ruin your self esteem for the next 6 months in 15 minutes."

6. "Switch it up a little"
Change your hairstyle to one that will elongate your neck and face. Long-layered hair is just fine, whereas a bob will make your face look round. Changing your hairstyle from time to time will make you look chic.

7. "Wear high-heels"
High-heels will make you look and feel taller and more elegant as well. Practice walking in these shoes if you need to. After all, you do not want to have an accident and trip while trying to appear graceful. Interestingly, some individuals are more at comfort wearing high-heeled shoes than flat shoes.

8. "Enhance your look"
Wear eye makeup or nice lipstick to draw attention to your face instead of your body. There is no need to wear heavy makeup. Opt for the near-natural look instead.
"Today, I didn't wear makeup. Four people asked me if I was feeling okay. Thanks for thinking my natural face makes me look like I'm physically ill…"

9. "Show off your positive features"
If you have nice legs, you can flaunt them by wearing short skirts or shorts. This will draw attention to the nice parts of your body and away from your problem areas.

10. "Choose the V"
Choosing a V neckline over a round or a square one will make you look slimmer, as your upper body will appear longer.
For further reading…
Know how to improve your heart health, lose weight, and get the most softest, clearest skin. Not to mention, your cancer risk may drop! *thumbs up* This type of diet has a variety of fantastic benefits.